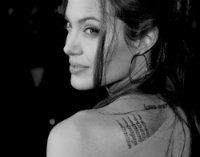 "If I make a fool of myself, who cares? I'm not frightened by anyone's perception of me."
description / unhcr / older
From Mr. and Mrs. Smith to Mr. and Mrs. Pitt! Angelina Jolie and Brad Pitt were married Saturday i…
The couple has tied the knot, their PEOPLE confirms
WTF WHERE IS EVERYONE
BRANGELINA R MARRIED OMG
COME AND FANGIRL WITH ME
Anonymous said: Do you think Angelina got plastic surgery? (In her nose) I think she did because her nose looks different now than from the photos of her as a teenager and stuff. I don't wanna offend you in any way!
Hellllllllo!
You're not offending me, it's okay pal!
Well, I don't really know, people change as they get older.
My mum reckons she has had a nose job, but, I'm not really sure..
THIS IS GONNA GO DOWN IN HISTORY
I AM CRYING
holy fuck
BREAKING NEWS THAT ANGELINA AND BRAD GOT MARRIED ON THE WEEKEND
do u ever just sit and look @ a photo of angie and wonder how she is so beautiful
bc, i do this daily